Paying for College: Overview | Financial Aid at Top Colleges | Net Price Calculators | Glossary
Fact: Top colleges can be more affordable for low-income students than public or community colleges.
While leading colleges have a very high price tag, they are often much cheaper for low-income students to attend than public and community colleges. Selective colleges, such as QuestBridge college partners, have large endowments and can guarantee to meet 100% of demonstrated financial need. Public and community colleges, and many lower-endowment private colleges, generally do not have the resources to cover all demonstrated need.
The Cost of Attending College
Below are the sample costs of attending a private, public, and community college.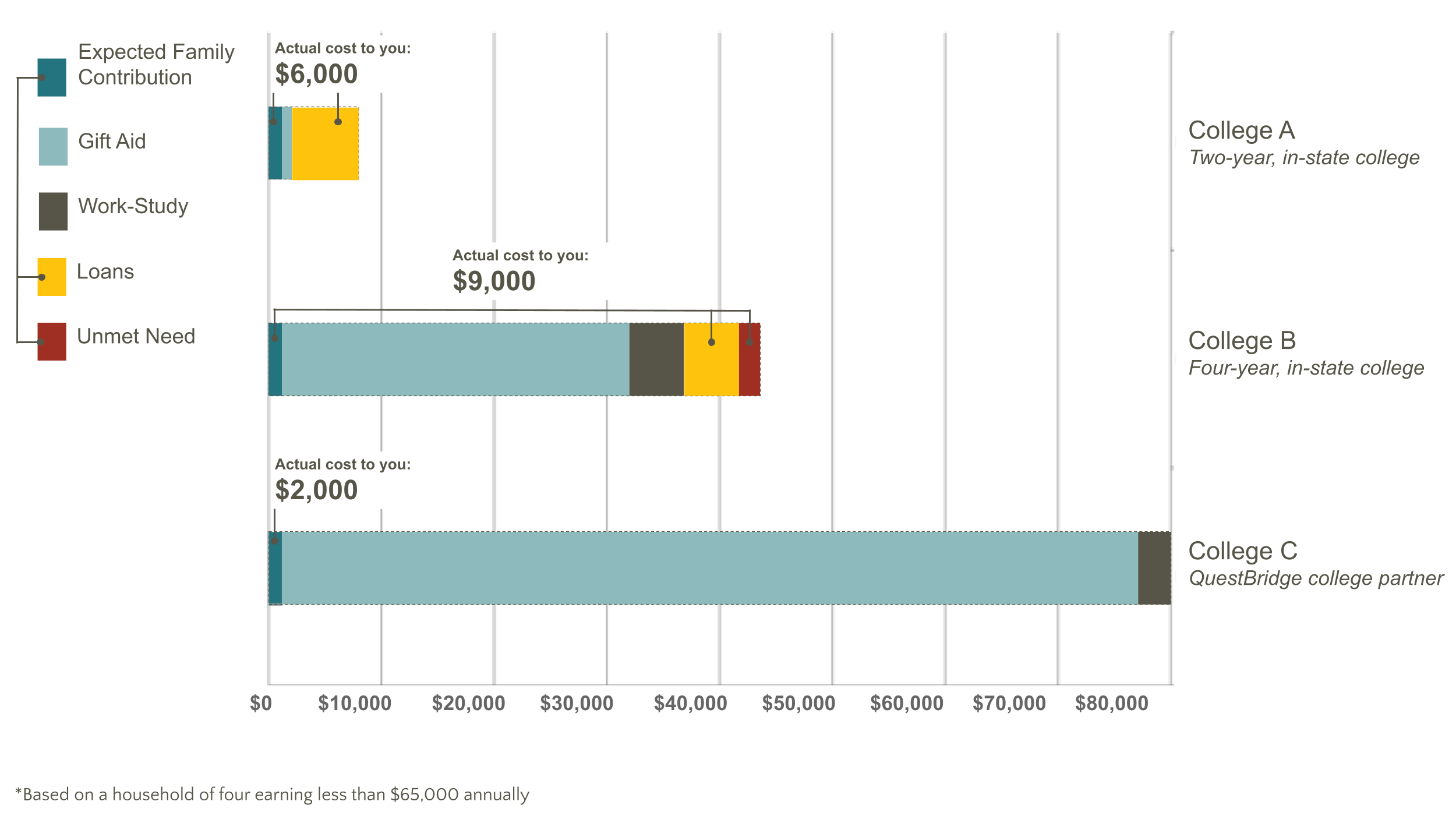 At first, it seems that the private college is far more expensive than the public or community college. However, each school is able to provide different amounts of financial aid, which means that the amount your family is responsible for will be different at each college.
Financial Aid at Top Colleges
At every kind of school you would get the same federal aid. However, only the selective private college would be able to provide enough additional aid to meet your remaining financial need. When a college is not able to meet your demonstrated financial need, the total cost you have to pay is the Expected Family Contribution plus the unmet need.
Despite the overall price tag of a school, the private college for which you only have to pay the Expected Family Contribution (EFC) is the cheaper option. There are a number of top schools with financial aid policies that require no parental contribution under a set income level.
Generally all colleges require students themselves to make a student contribution. This often comes in the form of work-study or summer work contributions. The amount can range widely, depending on the school. For most QuestBridge college partners the amount ranges from $1,500 to $5,500. So, even if your family has a very low income and consequently no parental contribution, you the student will still be expected to contribute to your education. Paying the student contribution isn't hard for students. Low-income students can often earn work-study doing research and other great jobs to cover their contribution, usually working 8-10 hours a week.
To see what a financial aid package might look like for your particular financial situation at individual institutions, use net price calculators.